Scene set up:
We booked an award flight on Delta.com, using our Delta miles from Portland to Orlando.  The Delta booking engine decided to book us on their partner airline, Alaska.  So our flight looks like this:
Portland to Seattle on Horizon shuttle
Seattle to Orlando on Alaska
When I booked the flight, I was under the assumption that I get one free checked bag as a perk of being a credit card holder of their Delta American Express card.  But because it is on their partner, and since we originate on a non-Delta flight, any freebie bag perk is out the window.  When I spoke to the Alaska reservation agent this evening, she pretty much said the same thing.  So no free checked bag, we'll have to pay $25.  But when I reviewed my original Delta confirmation fine print, here is what I see…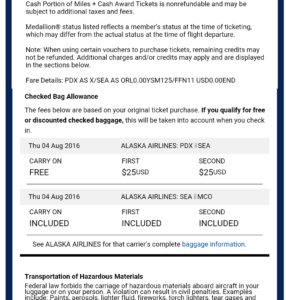 On first glance, it looked to me that our flight Portland to Seattle gets one free carry on bag, but the first and second bags cost $25.  However, when we take our connecting flight Seattle to Orlando, all of a sudden our carry on bag is included, and a first and second checked bag are also included?  So does that mean that we can go to the gate agent and hand off our check in bags and then have them free?
That's what it may appear to look like.  But with the peculiarities of travel, I believe the confirmation was trying to convey that if we pay the first leg $25 first checked bag, then the second leg would not incur another additional $25, hence the 'included' designation.  That makes sense, but I had to really think about it since I thought I was getting free bags as a Delta member!  At any rate, we are disappointed that we won't be able to check any bags in for free, but then again, it reduces the chance for the airline to lose our bags later on!  We'll see what happens tomorrow…