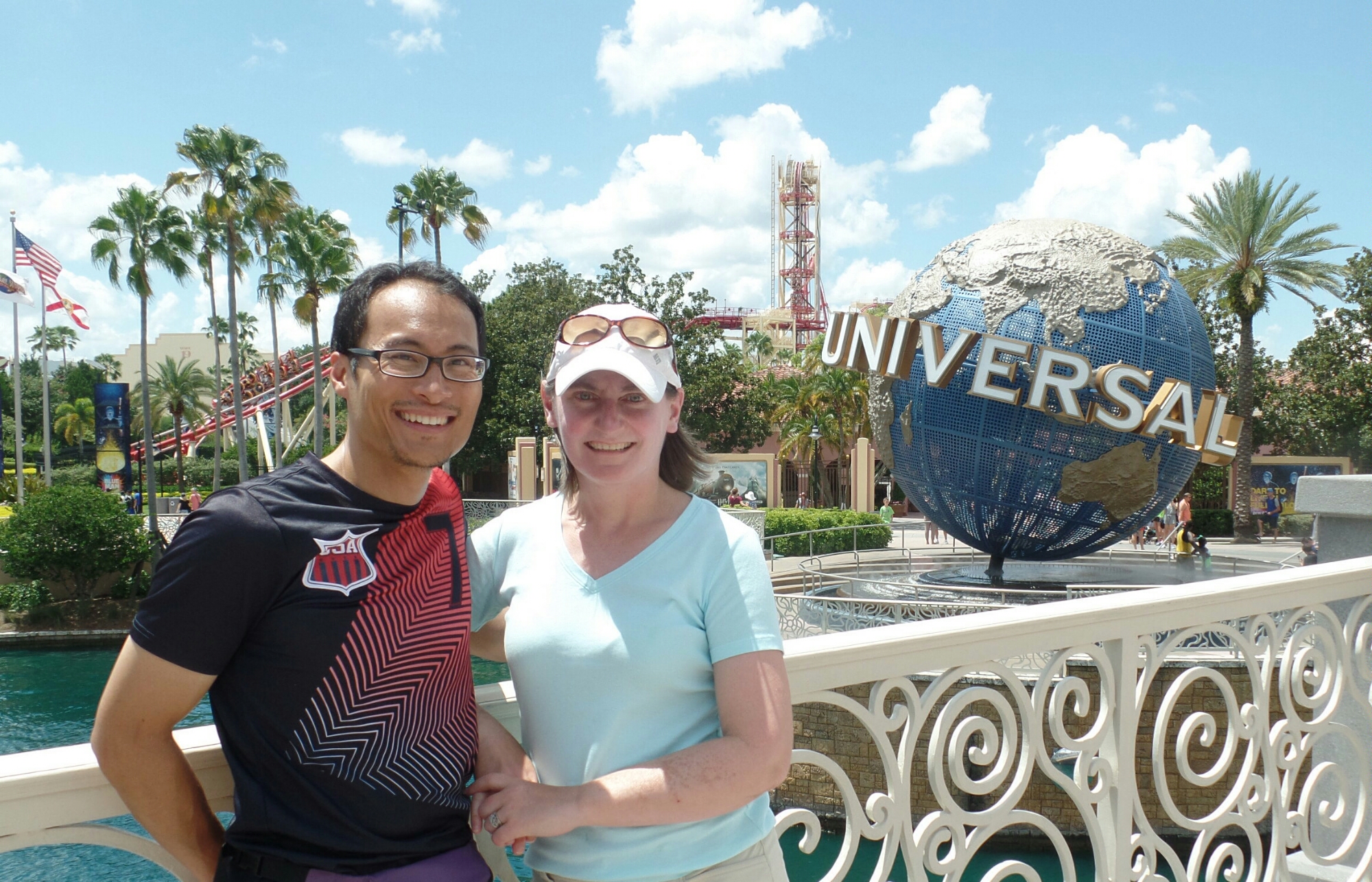 After three days of playing at Universal Orlando Resort, here are some of our strategies, in no particular order, for saving money when visiting:
Go during the off season — not possible with our school schedule, but the advantage of the summer months is that all the rides will be open and there will be plenty of performances and shows throughout the day to accommodate the crowds, plus the opening and closing times should give you at least ten hours or more of park time.
Pack a snack — the park allows food to be brought in as long as it doesn't need to be refrigerated or require a microwave.  We just packed some apples, peanut butter and granola/nut bars to sustain when our hunger pangs started.
Drink water, and lots of it.  So true especially in this very hot and humid summer time.  Skip the sugary drinks, but do try the Butter Beer!
Food:  if you want to carry a backpack to carry more food, by all means do it.  We saw people with sub sandwiches, tupperware full of colorful salads and more.  We wanted to try at least one restaurant in the park so we made the decision to just snack.
Time is money, so get there early.  And during these peak summer times, when you can beat the crowd to get on some of the high-demand rides before most of the people, do it.  Although the official opening time is 9:00am, they "dropped the rope" at 8:42am at Islands of Adventure and at 8:45am at Universal Studios.  That allowed us to ride the Incredible Hulk twice and Despicable Me before most of the people arriving at the 9am opening time.
Guests who stay at one of the official Universal hotels (I think there are four now) do get an hour early entry before the regular crowds, but the rates were too much for our budget to really consider this strategy.  Plus, since we are hardcore theme park guests, we knew that we would be spending over 12 hours at the park and we really only needed a hotel to sleep in at night.
 'Express Pass' option – starting at $55 – $85 per person, it was just not a budget-friendly reward to skip ahead of the regular line.  The Express Pass does have some limitations because not all rides offer it.  If anything, we found the single rider line (with the exception of Skull Island) to be the way to go to skip ahead of the lines.
Stay at an off-site hotel within 2 miles of the park.  Our hotel was a little over a mile from the CityWalk entrance, which meant that we could walk it if we wanted to and it wouldn't be a huge distance.  We stayed at the Holiday Inn Express, but we could have easily stayed at the following properties close by:

InTown Suites Extended Living
Extended Stay America
Best Western Plus Universal Inn
Fairfield Inn and Suites
Comfort Suites
La Quinta Inn
Baymont Inn & Suites
Clarion Inn & Suites
Hyatt Place
Doubletree by Hilton
Holiday Inn Hotel & Suites

Use Lyft or Uber to get to and from the park entrance.  Our average bill came to $6.05 each way for the five-minute ride.  However, we signed Lisa up on a promo where she got a $5 credit for up to ten rides each.  So our $6.05 rate was actually only charged $1.05 each way.  Even without the discount credit, a family could definitely save money over the $17-$20 daily parking garage fee.  We even had two separate rides in a minivan that could fit up to seven or eight passengers.  Another great thing we found is that Lyft and Uber drivers basically hang out at the CityWalk entrance all day so we never had to wait for more than two minutes for our driver to arrive.
Pick a hotel that offers a daily breakfast because that will save time over going to a restaurant and ordering food and paying the bill.  We loved our hotel because breakfast was available every morning beginning at 6:30am and there was enough variety to keep us sustained for the morning.  Here is what our free breakfast offered:

Individual yogurts — both regular and Greek style
Instant oatmeal bowls (just add water)
Instant oatmeal packets (dump into a cup or bowl and add water)
Oatmal accompaniments:  raisins and walnuts
Fruit:  Banana, orange and apple
Instant pancakes from a machine
Fresh cinnamon rolls
Bread items:  white toast, wheat toast, English muffins, plain bagels
Muffins:  chocolate chip, blueberry, banana
Hard boiled eggs (kept cold in the refrigerator)
Hot food items:  either bacon strips or sausage patties or sausage links; sausage biscuits and gravy; and either scrambled eggs or premade omelettes
Plus coffee, juices, cold milk and tea

Single-park admission:  we did not buy the dual park admission ticket because our strategy was to just spend a single day in each park.  However, a dual-park ticket might be advantageous in certain situations, especially on our last night when Universal Studios closed at 6pm while Islands of Adventure was open until 10pm.  Those with single park admissions for Universal Studios would have to go home, while those with dual-park tickets could spend the last 4 hours at Islands of Adventure.  Plus there is a certain Harry Potter Hogwarts Express train ride that only dual-park ticket holders can take advantage of.  If there is one splurge that we might reconsider for next time, it would be to spring for the dual park ticket.  However, on this trip we still found that our single-park every day worked just fine.
Our final strategy for saving money at the parks — not buying into all the souvenirs, retail merchandise and extras like photographs.
The tips above are what we consider some great money-saving strategies for us.  Remember, we do not have kids and we are pretty independent travelers that don't need (nor can afford) luxury options like on-site hotels, Express Passes or eating throughout the day at the park.  We still had a fabulous time and were able to do just about all that we wanted in our three days and all under $1,000.  Here is the break down:
| | |
| --- | --- |
| $300.00 | 4 nights hotel |
| $334.00 | 3-day single park tickets for two |
| $20.00 | Souvenirs |
| $80.00 | Food |
| $15.00 | Miscellaneous — Lyft, laundry, tips, etc. |
| $749.00 | Total |