Lisa has always wanted to do a European river cruise, but they are pretty expensive compared to the cost for a sea cruise vacation.  Our sweet spot is any cruise that works out to be under $100 per person, per day — including all port fees, taxes and tips.  Usually we can find cruises under this threshold if we just go on the cruise price, but the best deals really are when every expense is factored in.  The cheapest European river cruise I have found is around $200 per person, per day — but only during the off season or in May and September, months when Lisa and I are  still in school.  So imagine my surprise when I checked the Travelzoo Weekly Top 20 specials today — a nine-night river cruise on Uniworld, which is recognized as one of top top luxury river cruise companies in the world, for just $1974 per person.   Looking strictly at that price, $1974 divided by 9 days = $220 per person, per day.  On a luxury ship!  What makes this deal simply amazing is the fact that it is all-inclusive — we get alcohol, free shore excursions and gratuities paid for.  Regular pricing is $3949, so this is basically half off.  Since the link will probably go dead sooner than later, here is the special as advertised on the Travelzoo web site:
$1974 – Cruise Europe's Rivers in Summer: Luxe 9-Night Trip
Uniworld Boutique River Cruise Collection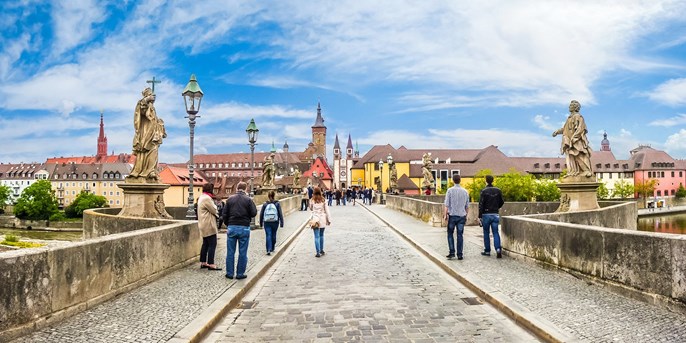 These elegant voyages include excursions, like a tour of a fairy-tale-like Bavarian castle.
The Deal

If an all-inclusive cruise on Travel + Leisure's No. 1 river cruise line wasn't in your plans this summer, it should be now with this deal. For 50% off current prices, Uniworld offers one of the most luxurious ways to sail through the heart of Europe.

Just about everything is covered for one price: all meals on board, unlimited beverages, free shore excursions, gratuities, port charges and Wi-Fi. Spring and fall dates are also on sale.

For $1974 per person, sail in a riverview cabin over nine nights on the following cruise tour:

Munich to Cologne (or reverse); ports include Nuremberg, Rothenburg and Frankfurt, Germany
Sail May 19; July 23; Aug. 20; $1899 on Oct. 15 and Nov. 3; additional spring and summer dates available

About the cruise line: Uniworld has a fleet of 19 intimate ships that take guests to destinations throughout Asia, Africa, China and Europe. The line is known for its cuisine, which is both sourced from and inspired by the region of the day. Lavish cabins feature handcrafted beds with Egyptian cotton sheets and marble bathrooms. Each ship houses a fitness center, spa and library.

Note: All taxes are included in the fare.
The Travelzoo link brings me to this page:
European River Cruise Packages

All Amenities Included

Jul 23, 2017 –

River Ambassador

9 Night Rhine-Main Discovery and Munich Cruise

Sailing from Cologne

Every Sailing Includes ALL of These Amenities:

1. Travelzoo Exclusive Pricing

(Save up to 50%)

2. All Gratuities

($150 per person savings)

3. Unlimited Beverages

(Beer, Wine, Spirits $700 Savings)

4. Gourmet Meals Onboard

(Zagat-Rated)

5. Shore Excursions

(Up to $700 Savings)

6. Airport Transfers

($100 Savings)

7. Internet & WiFi

($125 Savings)

8. Touring Bicycles

Don't Let This Deal Sail Away, Hurry and Book by 5/07/2017

Call a River Cruise Specialist Today 1-800-758-5693
Okay, I had to find out more about this offer, so I called Prestige Cruises and spoke to a representative.  Here is what I found out from talking to her and doing a little more research:
 Yes, the deal is $1974 per person, for a total of $3,948
Yes, it includes all those perks above — gratuities, alcoholic beverages and shore excursions being the big sellers.
The ship is old — 1993 — and it is small, carrying just 120 passengers.  But the room does have an outdoor window and ship was last refurbished ten years ago.
Reviews for the cruise company and overall positive; the ship has mostly good reviews as well.
The cruise only lasts for 7 nights — on day 8, they will bus you to Munich, where you will stay overnight at the Le Méridien Munich for two nights.
Wait a second!!  I was under the impression that it was nine nights on the cruise ship, not seven nights and then the last two in a hotel!  The hotel itself runs about $200 per night, but that does not include any food or drinks or shore excursions like the previous seven days.  So now when I look at the deal, the $3948 price is actually $3948 – 2 nights hotel ($400) = $3548.  Divide this number with seven days and I come up with $507 per day, and if I divide that by two people then the true per person, per day cost stands at $253, NOT $220.  Is $33 per person, per day that big of a deal?  Well, I suppose it is not that big of a difference, but when you are traveling on a budget, that $66 per day x 7 days = almost $500 more for the week.
So looking at all the fine print, I am disappointed that the cruise is actually only for seven days instead of nine.  On the plus side, it is still a great deal on a great river cruise company, and it comes with so many perks.  But on the down side, it is on their oldest ship and it is "only" seven days instead of what I thought was nine days.  The other huge factor is that the departure date is July 23rd — our Celebrity cruise arrives into Rome on July 22nd, so we would have to fly to Hamburg on the 22nd in order to make our sailing date the next day.  Not only does that mean no time to tour Rome, but it also means that we'll have to spend another $100 per person to fly to Hamburg in order to make the river cruise.  Ultimately, after looking at all the factors, this is one pretty good deal that we will have to pass up.  Had the cruise actually been NINE full days of cruising instead of just seven, then we probably would have booked it.  But as it stands, we'll just wait for the another opportunity of a river cruise deal for next time — or perhaps years and years into the future when we are retired and when we can jump on the last-minute deals.
Bottom Line:  Pass on this deal