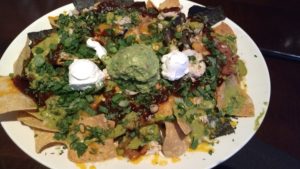 Nachos!  I love them!
This huge plate of chicken nachos is from downtown Portland's Yard House, and for $12 they aren't your cheapskate dive bar or 7-Eleven variety.  However, this gut-busting meal was actually a freebie, so long as I made another purchase of anything else on the menu.  Seems like the construction inside the Pioneer Place Mall has hurt business at the Yard House, and to get people in the door they have been running ads on Facebook.  The ad is basically a coupon for one free appetizer with the purchase of another item.  I suppose I could have gotten a $3 soda pop, but instead Lisa was yearning for some chicken strips and fries so we went with that and a couple of waters.  We showed our server the Facebook ad on my phone, and when we were ready for our bill the manager came by to verify the coupon.  It was a very simple process and the best part is that there was nothing to print and no code to give them.
Itemized bill:  $10.45 chicken strips, $11.95 nachos (comped) and $5.55 tip.
So for $16 Lisa and I both scored some great food that hit-the-spot, great service and a plethora of college football games on TVs spread throughout the restaurant.  Unfortunately they also had the Oregon State vs Washington game up, which was difficult to watch since we ended up losing 42-7 after we held the Huskies to a 7-0 lead at halftime… but YAY for nachos!