This is the day! The day that Lisa finally gets to visit the Wizarding World of Harry Potter.  And Edwin gets to ride rollercoasters!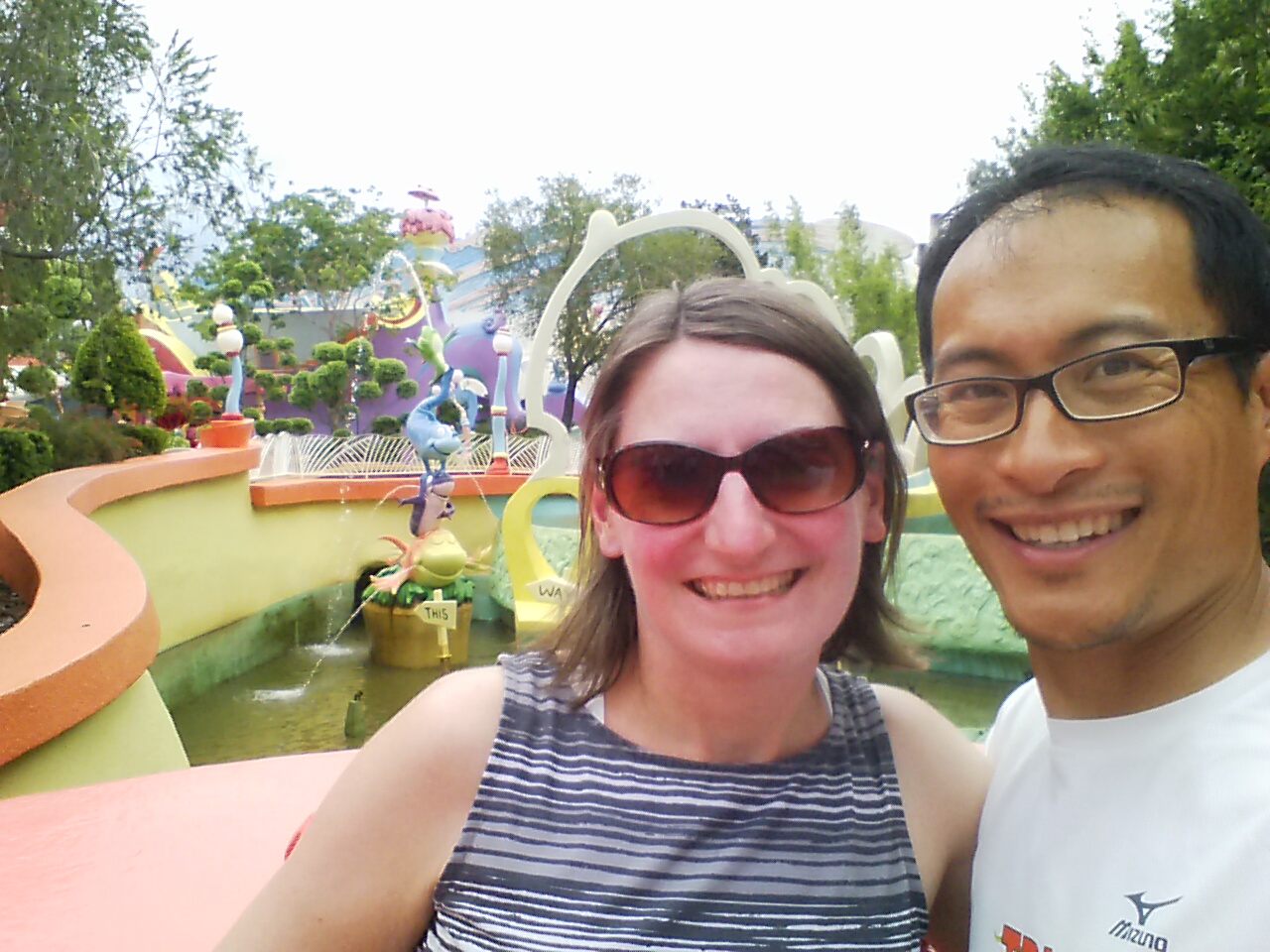 We spent 14 hours at Islands of Adventure.
Longest wait:  75 minutes at Skull Island: Reign of Kong.  This is the park's newest attraction, just opened this year.  It is a 4D ride.  We waited in the single rider line and it was the slowest line ever!  But at least it was not in the hot sun and the wait is typical for this time of year.
Shortest wait:  0 minutes — at the end of the evening, we rode the white water rafting ride Popeye & Bluto's Bilge-Rat Barges.  At one point, we stayed on the same raft for three consecutive rides because no other park guests were interested in getting drenching wet at that time in the night.  Yep, we were totally wet, but it was worth it!
Butterbeer:  didn't have a chance to try it out yet, but we plan to return on Saturday because we have a three-day ticket.
Harry Potter and the Forbidden Journey:  this ride is amazing, and we rode it twice, but man we were queasy afterwards due to the all the dizzying motion.  Our stomachs needed a few hours to recover before we felt that we could eat again!
Our hotel is a little over an maile from the CityWalk passenger drop off / pick up area, and normally we would just walk that distance, but in the morning we wanted to have a little more time at breakfast so we utilized Lyft to get us to the park.  Later in the evening, being soaked in our wet clothes, we didn't really feel like making the long walk back to our hotel sloshing around in our shoes.  We utilized some Lyft credits that Lisa had so the total cost came to about one dollar each way.
Daily Expenses Ledger
| | |
| --- | --- |
| $73.49 | Hotel – Holiday Inn Express, average over 4 nights |
| $111.15 | Universal Studios ticket, average over 3 days for 2 people |
| $24.00 | Universal Islands of Adventure Dinner |
| $2.05 | Total Lyft cost after discount — otherwise it was $12.05 |
| $210.69 | TOTAL |